The Crown Season 5 Image Reveals Imelda Staunton's Queen Elizabeth II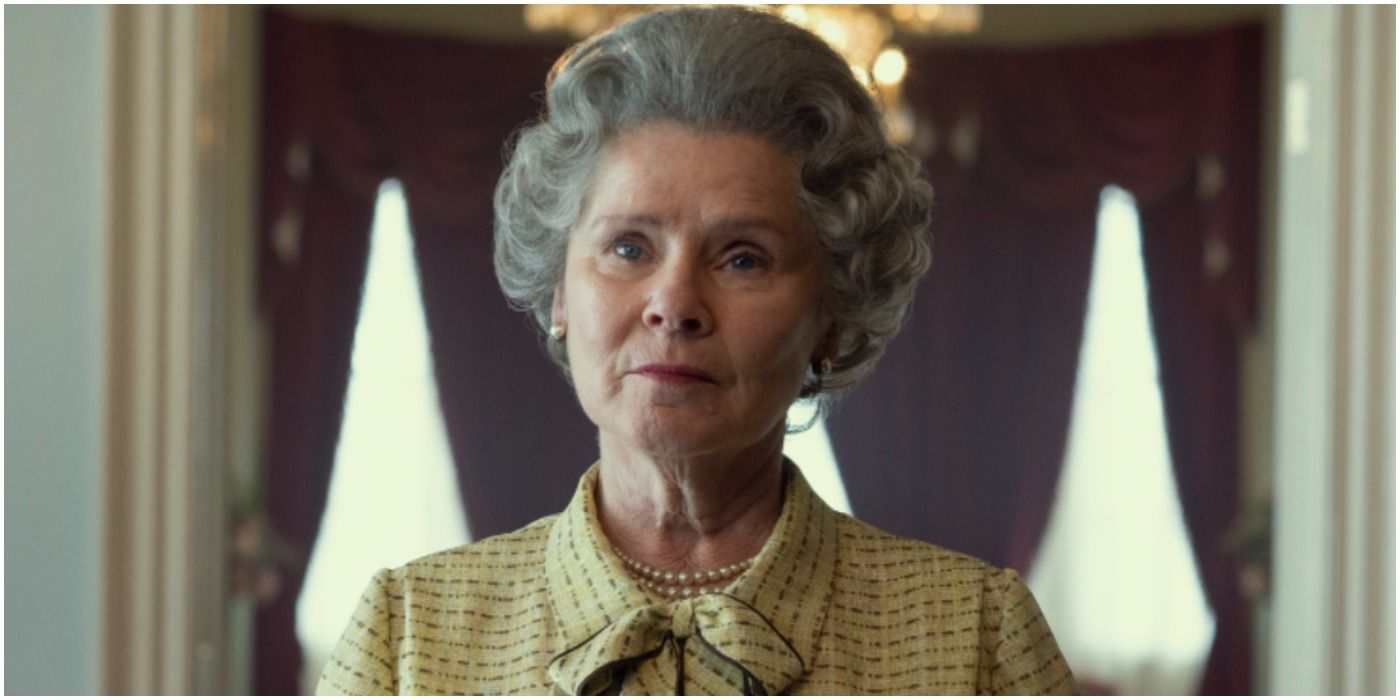 The Crown has released the first image of actress Imelda Staunton in the role of Queen Elizabeth II in the Netflix series. Staunton will take over from Olivia Colman in the role, who played the Queen in seasons 3 and 4. The Crown continues to tell the story of the political rivalries and romances that took place during Queen Elizabeth II's reign and the major events that occurred in the monarchy that shaped the second half of the 20th century. Season 5 of The Crown will cover Prime Minister John Major's tenure, the dissolution of Princess Diana and Prince Charles' marriage and subsequent divorce, and the death of Princess Diana in 1997.
Staunton will play the ruling monarch during the The Crown's final two seasons. The actress will follow actresses Claire Foy and Colman, who portrayed Queen Elizabeth II in season 1 and 2 and season 3 and 4, respectively. Like Colman and Foy, the rest of the cast will also be replaced with new actors, some of whom have already been announced. Staunton is best known for her work as Dolores Umbridge in the Harry Potter series of films, Hefina in Pride, and Vera in Vera Drake, as well as Maud Bagshaw in Downton Abbey.
Related: The Crown True Story: Where Will The Final Season End?
The new image (via The Crown's Twitter) shows Staunton on set, made up to look like the queen. She wears a wig that is similar to the hairstyle of the queen alongside a gold-toned patterned dress in a style that befits the ruling monarch. Pearls adorn her neck and Queen Elizabeth's ever-present purse hangs from her left wrist.
Click Here to See the Original Post
How Staunton will stack up against Foy and Colman is one of The Crown's biggest mysteries. Foy won an Emmy in 2018 for her portrayal of Queen Elizabeth, with Colman receiving two nominations for her performance. Colman lost out to Euphoria's Zendaya in a surprise upset in 2020, but her nomination for The Crown season 4 is still pending. Fortunately, Staunton's previous performances indicate that she is more than up for the challenge.
Additionally, it will be quite interesting to see how Staunton delivers a performance as the Queen in more of a present-day setting than her predecessors. Viewers of the series will now have a comparison between Staunton and the modern-day monarch when The Crown season 5 premieres on Netflix in 2022. Whether or not Staunton stays true to the personality and temperament the queen displays in public or instead chooses to dive deeper into her interpretation of the real person behind the title remains to be seen.
Next: The Crown Season 5 Must Be Completely Different For Fans Of The Royals
Source: The Crown