Jersey Shore: Snooki's Kids Are Her & Husband Jionni's Twins In IG Photo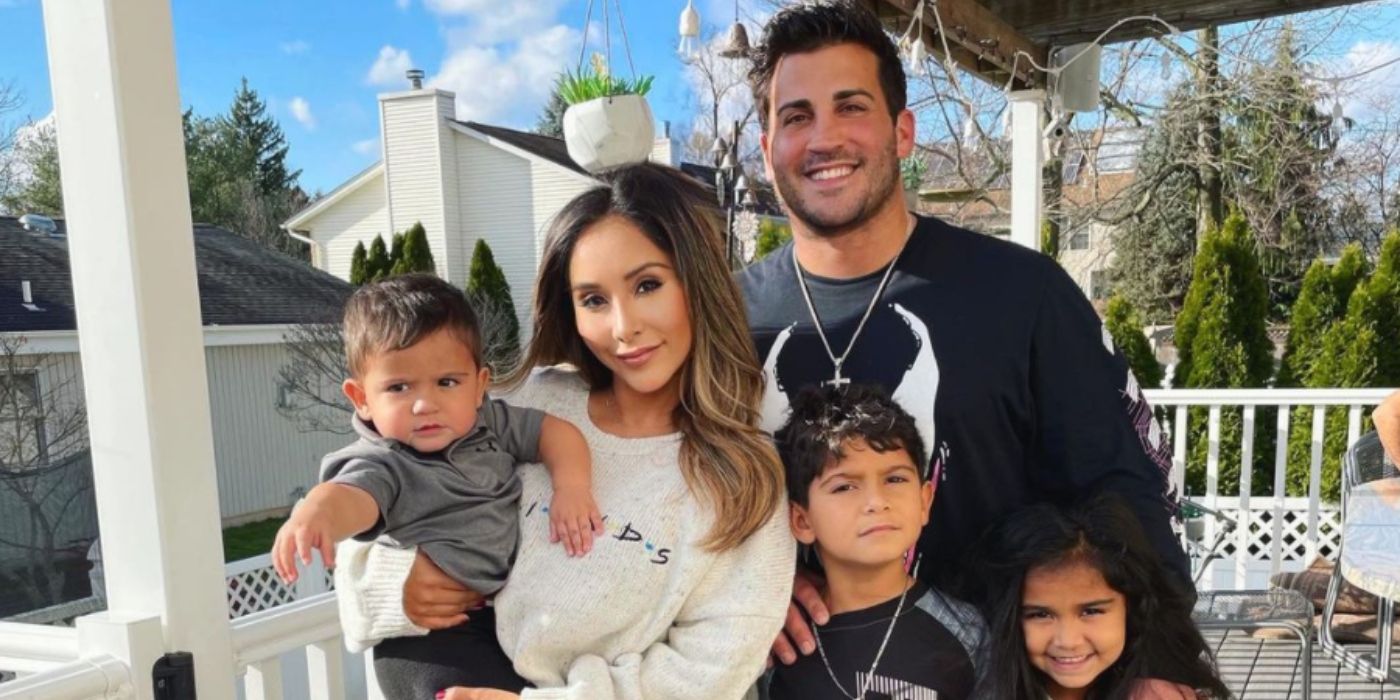 Jersey Shore star Nicole "Snooki" Polizzi just shared an adorable photo of her two oldest kids, Lorenzo and Giovanna, who are a spitting image of she and her husband Jionni LaValle. The photo was from an at home photoshoot for Lorenzo's upcoming First Holy Communion. Nicole and Jionni have three kids together: Lorenzo 8, Giovanna 6 and Angelo 1.
Since quitting the show during the finale of season 3, Nicole has been keeping herself quite busy. She manages her two Snooki Shop locations in both New Jersey and New York. Aside from running the stores, Nicole has also planned a few events at each location in an effort to meet some of her fans. She and her best friend and makeup artist Joey Camasta have also been busy working on their podcast together. On top of her numerous work projects, Nicole is also a full time mom to her three kids, constantly sharing photos and videos of them on Instagram.
Related: Jersey Shore: Deena Receives Congrats from Snooki & Fans on New Baby
Nicole posted an adorable photo of her two oldest kids Lorenzo and Giovanna on Instagram Friday afternoon. Both kids were dressed in all white as they prepared for a small at home photoshoot for Lorenzo's upcoming First Holy Communion ceremony. The 8-year-old stood tall with a smirk on his face and his arm around his little sister. Giovanna smiled as she looked back at him in slight annoyance. Nicole joked that her kids are a spitting image of herself and her husband Jionni, who tends to hide from the camera. She wrote, "OMG," before continuing "legit me and @jlavalle5." Nicole concluded the caption with the hashtags "my babes" and "blessed."One fan was amazed by the resemblance of Nicole's kids to she and Jionni, joking, "No DNA needed here!!" The comment continued on, reading,"Wow!! Exactly like mom and dad." Take a look at the adorable photo below:
After sharing the photo, Nicole posted a series of Instagram Stories as she overlooked her son's photoshoot. Lorenzo stood in front of a backdrop set up inside their home as his mom encouraged him to smile for the camera. The shoot later moved to the family's backyard, where Lorenzo posed in front of the trees. Meanwhile, Giovanna was busy running around, still in her white dress. Nicole captured a video of her wild daughter, adding the Jersey Shore theme song to it and writing her infamous line, "Where's the beach?!" Nicole's roommates as well as fans could not get over how cute the two kids looked for their shoot. Mike "The Situation" Sorrentino, who recently took pregnancy photos alongside his wife Lauren, wrote, "Adorable," along with a heart eyed emoji. Nicole's fellow meatball and mom Deena Cortese shared numerous emojis after writing, "I can't."
Although many fans are still quite disappointed that Nicole is no longer on Jersey Shore: Family Vacation, there is no doubt she has her hands full at home. It has been rumored that she will be making at least one cameo in the upcoming season of the show; however, nothing has been confirmed. When she had initially announced her departure from the show, Nicole explained that she did not enjoy leaving her kids for days at a time. Perhaps she will return to just partake in single days of filming rather than the group trips.
Next: Double Shot At Love: Snooki Says Vinny Isn't Looking For Love
Source: Nicole "Snooki" Polizzi