Billie Lourd's Son Watches Carrie Fisher In Star Wars In Cute Photo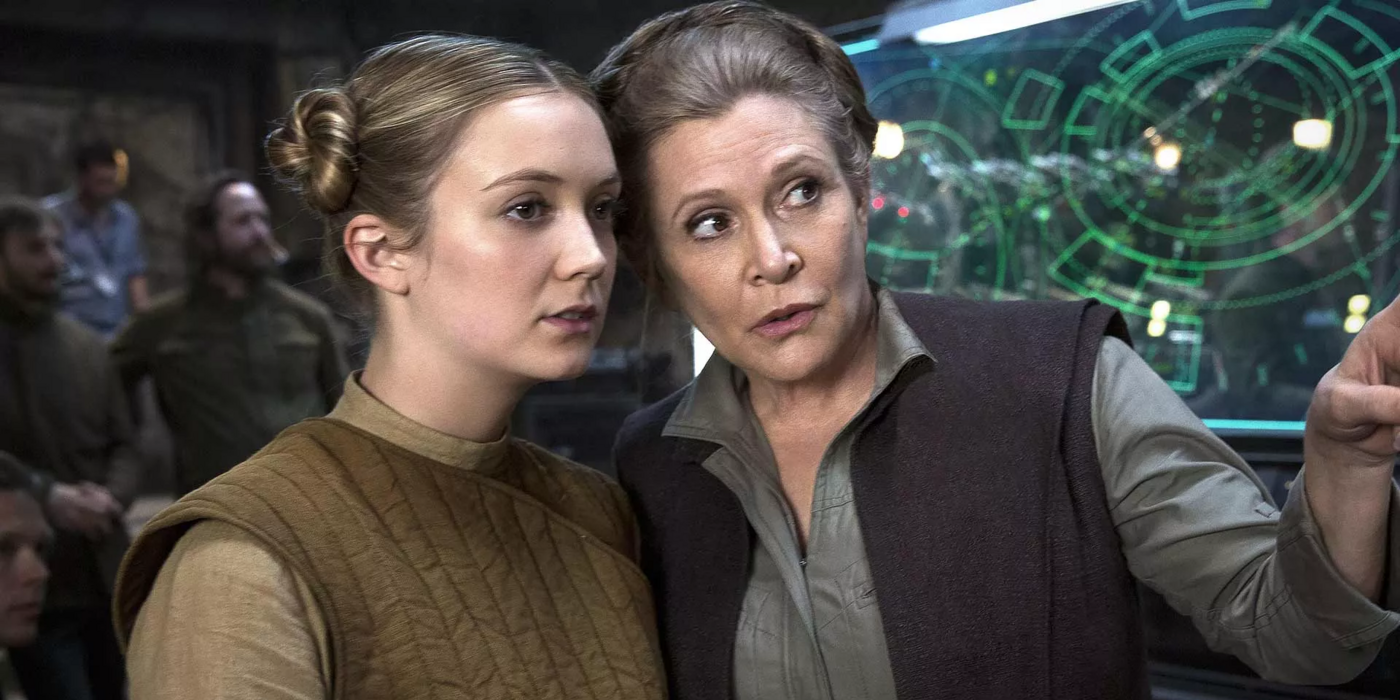 Billie Lourd posted an adorable photo of her son watching Princess Leia in Star Wars in honor of her late mother, Carrie Fisher. Lourd posted the photo to commemorate May the 4th, the annual Star Wars day. Other than starring in Episodes VII, VIII, and IX as Lieutenant Connix alongside her late mother, Lourd has appeared in 3 seasons of FX's anthology series, American Horror Story and will return for the upcoming tenth season.
Lourd is the only daughter of the iconic Star Wars actress, Carrie Fisher, and the granddaughter of the late Hollywood legend, Debbie Reynolds. Fisher starred as the Rebel Alliance leader, Princess Leia Organa, in the original and sequel trilogies, including her posthumous appearances in the final two installments of the Skywalker saga. Fisher's sudden cardiac incident and her subsequent passing on December 27, 2016 sent shockwaves throughout the Star Wars fanbase and the world at large. The following day, Fisher's mother, Debbie Reynolds, passed away at the age of 84 after suffering a stroke. Since then, Lourd has been very open regarding the grief she suffered after losing her mother and grandmother in two consecutive days.
Related: Star Wars Day: Everything Releasing On Disney+ for May 4th 2021
Now, in honor of her late mother and May the 4th, Lourd posted a precious picture of her infant son, Kingston, watching his grandmother Carrie Fisher in Star Wars. The scene in question appears to be the final throne room scene of A New Hope, in which Princess Leia awards medals to Luke and Han for their heroism. Lourd's post also shows her son wearing a brown knit cap resembling Leia's iconic bun hairstyle and a white onesie with Leia artwork on it. Check out Lourd's post below:
In the years since her passing, Lourd has done a lot to remember her mother and honor her legacy. For instance, Lourd posted a video of herself singing Tom Petty's "American Girl" on Fisher's birthday in 2019. Later that year, Lourd posted a picture of herself as a baby alongside Fisher and Reynolds and shared a heartfelt message for others who may have recently lost a loved one.
While Fisher passed away before filming for The Rise of Skywalker began, they were able to provide a conclusion to Leia's story by stitching together unused footage from The Force Awakens and The Last Jedi along with the help of CGI. Though it been over four years since her passing, Fisher's legacy will also be preserved by her on-screen performance as Princess Leia, and it is nice to see Lourd introducing her son to the saga at such as young age with the original Star Wars film.
Next: Why Is May The 4th The Official Star Wars Day?
Source: Billie Lourd