Anthony Rapp Interview: Star Trek Discovery Season 3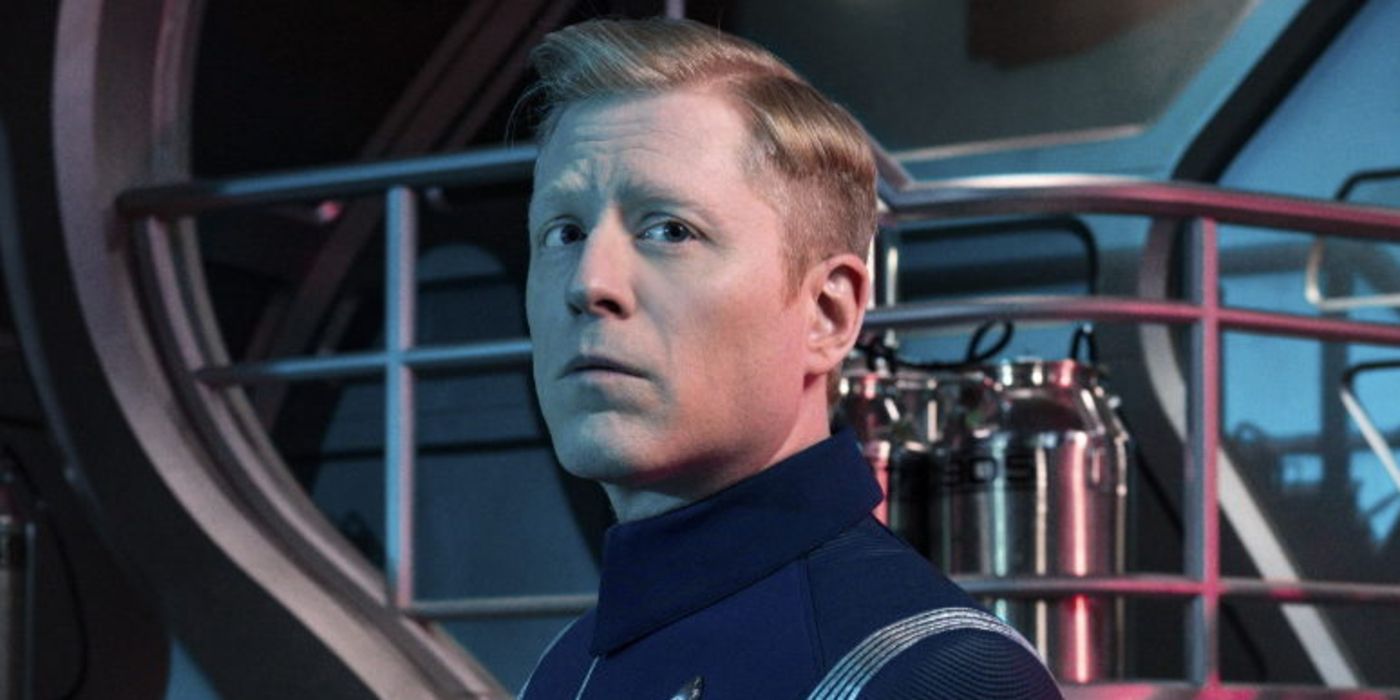 Star Trek: Discovery season 3 was acclaimed by critics and fans for bringing the franchise into the distant future of the 32nd century, which invigorated the flagship Paramount+ Star Trek series. As season 4 wraps production, Star Trek: Discovery season 3 is now on DVD, Blu-ray, and limited edition steelbook, which contain all 13 episodes and hours of exclusive bonus footage.
Screen Rant had the pleasure of interviewing Anthony Rapp, who plays Lt. Paul Stamets. We discussed his favorite Star Trek: Discovery season 3 memories, the experience of shooting season 4 under strict COVID-19 protocols, and how playing Dungeons & Dragons with his castmates influenced his work on the show.
Related: Theory: Discovery Season 4's Villain Is From The Original Star Trek Movie
Screen Rant: What were your favorite moments from season 3 for Stamets and also overall?
Anthony Rapp: It was very cool to get something 'chewy', which is a phrase I like to use when there's a lot of stuff going on, with Michael [Burnham]/with Sonequa [Martin-Green] towards the end of the season. I'm trying to save Hugh and Adira. That whole sequence was very intense. When I first read it, I said, "Wow, this is really something." Then I found out Jonathan Frakes was directing and I just felt so happy that was the case because I knew he was going to take really excellent care of me and of us. And that proved to be the case.

It was really meaningful to get to do something kind of intense. (laughs) Because I don't always get to do that. Stamets is usually a little more composed, which is also cool. That was probably the pinnacle moment. Also, for pure enjoyment, to get to meet and work with Blu del Barrio in season 3 was a complete highlight.
That was one of my next questions. Star Trek has always walked the walk when it comes to diversity and inclusion, and the addition of Adira (Blu del Barrio) and Gray (Ian Alexander) was phenomenal. It's also great for Stamets and Hugh because all of a sudden, they've got a little family. I presume that family stays together and we get to see more of it in season 4?
Anthony Rapp: Yes, and I don't think it's a spoiler to say that one of the cool things about season 4 for Adira and Gray is that they get to spread their wings a little bit. They have their sea legs now so you get to see them in their own right and not just simply as a piece of the family puzzle or being overseen and tended to in that way.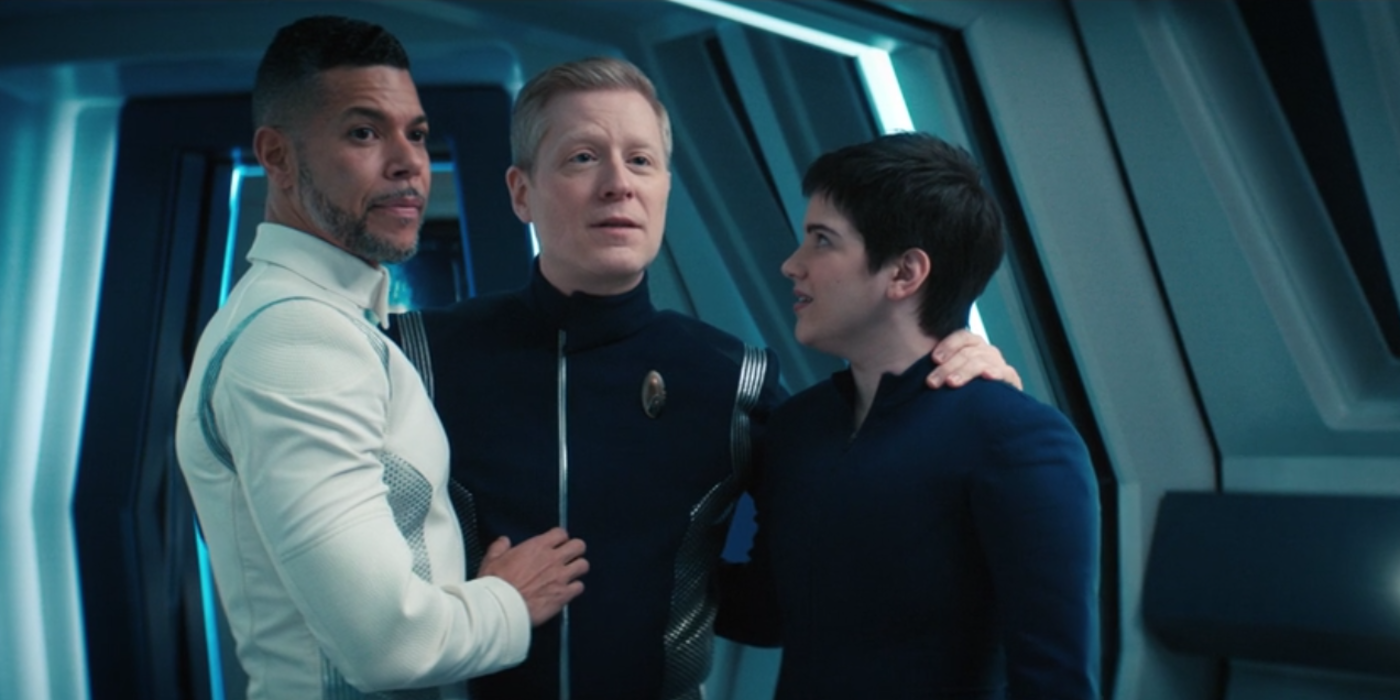 When season 3 ended, Burnham became Captain of the Discovery but Stamets was the only person on the crew who wasn't super pleased about Michael's promotion. Can you take us through Stamets' feelings towards Michael at the end of season 3?
Anthony Rapp: Well, it was very hard for Stamets and I think that, ultimately, he's a smart person and understands [why Michael became Captain] but it still stung, the way that it happened. Ultimately, he can understand [what Michael did] is something that Captains have to do sometimes but at that moment it was like, "You really put me through the wringer. You really hurt me." And so I'm gonna be here, I'm gonna show up, but it's hard to be thrilled in this moment for you.
They've been so close throughout the series that it was kind of heartbreaking to see a schism between them.
Anthony Rapp: Yeah, but it wasn't relationship-breaking, if that makes any sense.
Well, that's good to know. There were rumors floating around the Internet that Stamets was gonna break bad in season 4 and really stick it to Michael.
Anthony Rapp: (laughs) No, no. He's like a consummate professional. He hated [Captain] Lorca but he still did his job. And he doesn't hate Michael. He was just hurt. It was a different situation.
A lot of season 3 involved the Discovery crew coping with what it means now that they're permanently 1,000 years in the future. One of my favorite scenes of the season was when Saru invited the bridge crew to dinner and all the tensions came to a head. Can you talk about what that scene was like to shoot?
Anthony Rapp: It's just fun to get to do something so rich and full, and to be with everyone. It was such a large group. It's always really fun to get to spend time with the bridge crew cast and with Michelle Yeoh. I love the people I get to work with more often but to get to expand it like that was really pleasurable.

It's almost like doing a play, a scene like that. And I love doing plays so it's just an extended scene in which there's a lot of dynamics going on where [we're] spending time to get the feel of the rhythms together. And you have to do the scene for a long time because there are so many people in the scene. You have to do a lot of coverage. So it was a really fulfilling way to spend the day or two we spent shooting that scene.

Everybody's always [giving] 100% and then our director Hanelle [Culpepper] came in to make little adjustments here and there, and we got to try different colors, different approaches to certain moments. It was just a really fun sandbox to get to play in.
Another part of season 3 I loved was the return to the Mirror Universe, although we bid farewell to the great Michelle Yeoh and Emperor Georgiou. You got to give that amazing monologue that was basically Georgiou's origin myth. Can you talk about shooting that scene?
Anthony Rapp: It was really fun. When I read the script, I was like, "Wow! Yeah, I'll do this!" I'm a theatre actor, I've done Shakespeare – I'm not saying it was on the level of Shakespeare, exactly, but it was in the spirit of it.
Star Trek is very Shakespearean. It has those elements.
Anthony Rapp: Yeah, and to get to be stabbed in the neck by Michelle Yeoh! If you told my 12 year old self that would we something I would see in my lifetime, I'd have laughed at you. She was a wonderful part of our show on-screen and off and we really miss her but I'm so happy for all of the incredible things that are happening for her. It was bittersweet to have to say goodbye to her but also, we are thrilled to see what will come next for her.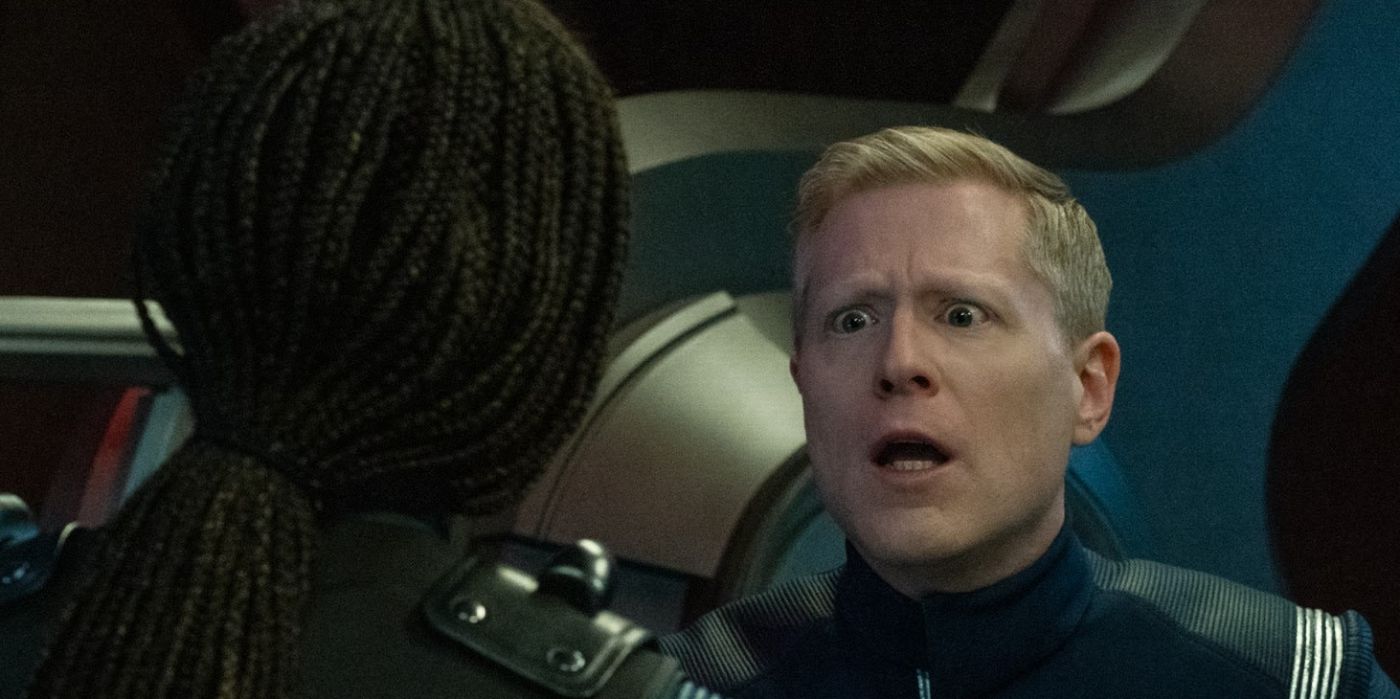 Discovery season 4, I believe, is fairly close to wrapping production.
Anthony Rapp: I finished my work on it a couple of weeks ago. There's a little bit left. I don't know exactly how much more time is left. There's a location that they're shooting in that my character is not a part of. They have a bit of extra stuff they have to shoot there. After that, we're all done with the whole season. And that's coming very soon if I'm not mistaken.
This was obviously a very different season to shoot because of the pandemic. What has shooting Discovery season 4 been like with all of the COVID protocols? 
Anthony Rapp: They were challenging but also necessary so we just put our heads down and did our best to maintain them. It was strange to be sitting with your friends and everyone's wearing masks, which is fine, but tough doing it for 12 hours a day. And then rehearsing a scene with masks on… it's not quite the same in terms of feeling the scene and really feeling the subtleties of the scene. It makes it a little more challenging. But on the other hand, when the time comes when you're in front of the camera then it's super fresh. We found our way, we found our rhythm and we really did make good time with the schedule, even with the extra little annoyances of having to take a lot of extra time between scenes. But we knew that it was necessary, we know that it had to happen.

It was also strange in that we're very close with our crew, too. There are people that, for nine months, I didn't see their faces at all once. When we're indoors, they're always masked. That was just a strange situation. There were a couple of times when I'd be walking outside to go to the office or my trailer, and I'd see a crewmember outside having a snack, and I'd be like, "That's the first time I've seen your face in months." That was kind of a bittersweet thing. But at the same time, keeping people safe is so important. There were no protests against the protocols. We were grateful that all of the unions could come together and come up with protocols that worked to keep everyone as safe as possible.
Related: Star Trek: The Real Reason The Federation Fell
Now, I know from following you on Twitter that you and some of the cast are huge Dungeons and Dragons fans. How did the Discovery D&D crew come about and how has playing D&D influenced how you approach your Star Trek work?
Anthony Rapp: Noah [Averbach-Katz], who is Mary Wiseman's husband and played Ryn in season 3, was talking about putting together a game. I don't remember when exactly we started talking about it but every time in-between seasons, [D&D] would get mentioned in an email. I was one of the big cheerleaders going, "Yes! Please! Let's make it happen!" Then we came up with our group through Noah and the people who got back to him who were interested.

It's a fantastic way to bond with each other. We had to do it via Zoom because even though we were following protocols and were tested 3 times a week, the Toronto city government rules said households couldn't mingle. So it was a source of connection and sanity in this very difficult time when, even though we're working together, we're still so isolated.

And there were some really intense moments between our D&D characters. With role-playing, sometimes there's like a tissue paper-thin barrier between yourself and your character in certain moments. It was sort of like we got to purge some of the intensity of what's been going on in our world, almost, by playing this game together. So it was just another lens that we could use to work through stuff. And sometimes it was just fun to fight a bone dragon and prevail. It's been really magical and meaningful to get together and have this adventure, and really explore storytelling and collaboration, and sometimes it's really goofy and sometimes it's really serious. It's been a gift.
It sounds really healthy and, as you said, was a great way to release some tension and get your imaginations stimulated.
Anthony Rapp: Yes. And we love our work and it's great to play the characters we play on the show. But it's also nice to exercise different muscles with each other. To change up the groove a little bit.
Is there anyone in the cast and crew that you're trying to recruit into your D&D game? Is there a white whale in the cast you haven't caught yet but you really want to rope in and toss some ten-sided dice on the board?
Anthony Rapp: We were successful in making it possible for Sonequa to join us for one game. Sonequa actually loved it. And Kenric, her husband. But their schedule is just so insane that it's really a hardship for them to try to do a regular campaign. He's a little intimidated by it because there are so many rules. But I think that he would really love it. I'm hopeful that he could someday jump in.
You guys should either sell tickets or do a game at the next Star Trek convention because people would love to watch this.
Anthony Rapp: Thank you. I don't know if I can say anything yet but we are trying to make something like that happen.
Next: Star Trek: Discovery Season 3 Gag Reel Shows The Behind The Scenes Gaffes [Exclusive]
Star Trek: Discovery season 3 is now available on DVD, Blu-ray, and limited edition steelbook. All seasons are available to stream on Paramount+ in the US.